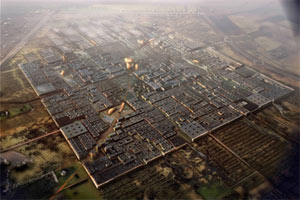 Construction work on the world's first zero-carbon city housing 50,000 people in a car-free environment will begin in the oil-rich Gulf emirate of Abu Dhabi next month, the developers said on Monday.

Abu Dhabi sits on most of the UAE's oil and gas reserves, ranked respectively as fifth and fourth in the world. Proven oil reserves on their own are expected to last for another 150 years.
Oh, the sweet irony of the first zero-carbon city being paid for by the sales of oil and gas.
Once completed in 2013, residents will be able to move around the six-square-kilometre (2.4-square-mile) city using a light railway line and a series of automated transport pods.

"They're like a horizontal elevator. You just say where you want to go, and it takes you there," Awad said of the pods.

Unlike the gleaming towers of nearby Abu Dhabi, a model of the Foster and Partners-designed Masdar City displayed at the summit showed only low-rise buildings with solar panels on each roof.

The city will be sited to take advantage of sea breezes, and a perimeter wall will protect it from the hot desert air and noise from the nearby Abu Dhabi airport.
I am conflicted about this. On the one hand, I love the idea of trying to build a zero-carbon city just to see if it is possible. An undertaking like this is sure to generate new technologies that can be used elsewhere. And I am really curious what those transportation pods will be like.
On the other hand, I am highly skeptical that centralized planning like this can work. As far as I know these pods have never been used on a scale of a city. What happens if they don't work? Or what happens if they don't work as well as other forms of transportation like motorbikes or cars? Will they stop them from being allowed into the city?
And what happens when you want to travel to another city or if someone wants to come visit you? Do you have to park your car at the gate of the city?
The Crown Prince of Abu Dhabi, Sheikh Mohammad bin Zayed al-Nahayan, pledged 15 billion dollars to Masdar at the opening of the three-day summit on Monday.

Despite its constant access to sunshine, only parking meters in the UAE are currently powered by solar energy. Even solar water-heaters -- popular in several hot-climate countries -- are seldom seen.
Instead of building this city, I wonder if the $15 billion could be spent in a way that would reduce carbon even more. Seems like you would get more bang for your buck by offering incentives to people to start using solar water heaters and add solar panels to their roofs rather than creating a brand new city with futuristic transportation pods. Another idea would be to support research and development of new solar technologies.
But, here's hoping that the city and the transportation pods disprove my doubts and are a big success.
via
Next Energy News
Update:
The Transportationist
has a cool 5 minute YouTube video on this city.