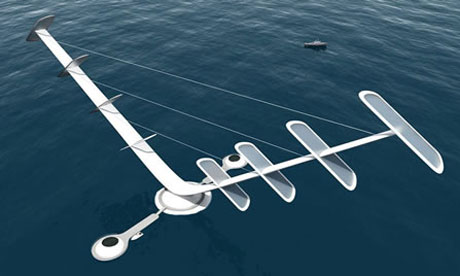 It may resemble a giant rotary washing line, but it might just help Britain meet its hugely ambitious new wind energy targets. At least that's the claim of the company developing a novel "vertical axis" wind turbine dubbed the Aerogenerator.

The 144-metre high V-shaped structure would be mounted offshore and capable of generating up to 9 megawatts of electricity, roughly three times as much power as a conventional turbine of equivalent size. Switching to such a design could ensure that thousands fewer turbines would be needed in order to meet the government's new wind power target, says Theo Bird, founder of Windpower, the Blyth-based firm behind the new turbine.

Instead of being mounted on a tower with "egg whisk" blades that bow outwards and meet at the top - like a typical Darrieus - Sharpe's variation has two arms jutting out from its base to form a V-shape, with rigid "sails" mounted along their length at intervals. As the wind passes over these they act like aerofoils, generating lift which turns the structure as a whole at roughly three revolutions per minute, says Bird.

The beauty of this design is that no matter how high the two main structures are made it is relatively simple to make them bottom heavy. Because of this the technology lends itself to large engineering projects, which is precisely what is needed with wind power, says Bird.
via
Guardian Unlimited