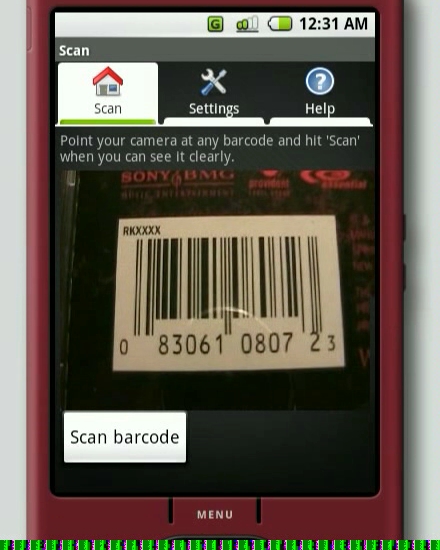 Scan is an Android application that finds pricing and metadata for anything with a barcode. Here are some key features that make Scan stand out:

Automatic barcode recognition using onboard phone camera using ZXing
Shows CD, DVD, or book cover along with detailed reviews from Amazon.com
Searches over a dozen stores, both online and brick+mortar

Highlights brick+mortar stores that are nearby, with option to call the store or get directions
Links to online storefronts to buy online from the phone

Tracklisting for CDs, along with option to play sample tracks right on phone
For books, searches local libraries to see if they have a copy
Very Cool. More information and a 3 minute video
here
.
The idea of using cellphones and bar codes to comparison shop and get additional information about products has been floating around forever, but this is the first time I have actually seen a working demo. The
ZXing
barcode scanning software is written in Java and is going to be ported to the iPhone, so hopefully applications like this will be available on all sorts of phones. I am particularly interested in seeing this technology leveraged for additional social and environmental information such as carbon footprints.
I haven't been very excited about Google's
Android
platform for phones, but if this is what the future holds in an Android world, I am all for it. For lots more cool apps that have been designed for Android click the link below.
via
TechCrunch