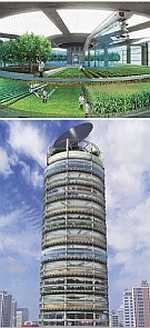 Las Vegas the tourist mecca of the World is set to begin development of the World's first vertical farm. The $200 million dollar project is designed to be a functional and profitable working farm growing enough food to feed 72,000 people for a year and provide another tourist attraction to the city that does everything in a larger than life way.

Although the project initial cost is high at $200 million, with annual revenue of $25 million from produce and another $15 million from tourists the 30 story vertical farm would be about as profitable as a casino with operating expenses only being about $6 million a year.

There would be about 100 different crops grown ranging from strawberries to lettuce even miniature banana trees could be grown from each floors specially controlled environment. The products would go straight to the casinos and hotel properties and be a very visible and desirable addition to the overall Las Vegas experience. Design details should be worked out in 2008 and the project could open its doors by the middle of 2010.
Interesting. I am not sure that vertical farming makes sense on a large scale, given the cost of the building and urban land, but it is cool so I am glad they are giving it a try.
I'm curious how much energy vertical farming uses compared with traditional farming. Obviously there will be less for transporting the food, but controlling the environment of each floor must take something.
I also like how they have taken the
Dwight Schrute approach
and integrated farming with tourism. A little over a 1/3 of revenue is expected to come from tourism. Using tourism as an additional form of revenue would allow more environmentally conscious farmers throughout the country to achieve profitability.
I never thought the city of Las Vegas was environmentally sustainable being located in the middle of a desert. But, now I am questioning that for when energy comes from solar power being in the middle of a desert is suddenly an asset. Vegas has some of the
highest levels of solar radiation
in the country and therefore could be the first major city completely powered by solar energy. Las Vegas could even become a hub for solar companies, as seen by Ausra Inc opening a
manufacturing plant for solar thermal power systems
there.
via
Environmental News Network